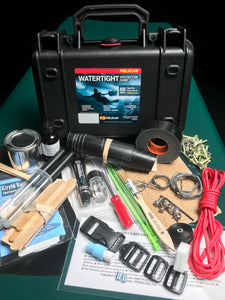 Kayak Field Repair Kit
Long Haul Folding Kayaks
Regular price $159.00 Sale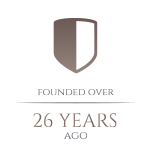 Long Haul Folding Kayaks' Field Repair Kit is filled with standard repair equipment and materials for all folding kayaks. We've assembled more than 30 items and packed them in a Pelican brand watertight case for maximum utility and portability. The kit is made to be taken right on the boat so it's there when needed. Each kit contains most everything needed to make minor repairs to Long Haul Folding Kayaks*.    
Each Field Repair Kit Contains:
One 10.54" x 6.04" x 3.1" Watertight, Crushproof and Dustproof Model 1170 Pelican Case
Complete Instructions on How to Use Each Item in the Kit
Aluminum and Stainless Screw and Rivet Pack
12ft Paracord
Heavy Needle and Thread
Aquaseal Repair Adhesive and Cure Accelerator*
Two-part Epoxy
Kirch's Kwick Patch-n-Go Kit
¼ Pint Can of Rubber Cement*
Keelstrip
Long Haul Deck Fabric (Please Specify Deck Color When Ordering)
Birch Splints
Zip Ties
Bottle Vinyl Cement*
Stir Sticks
80 Grit Sandpaper
Sponson Patch
Spare Sponson Valve 

(Please Specify Klepper or Long Haul When Ordering)

Roll of Gorilla Tape
Phillips Head Screwdriver
1" Wide Paintbrush
Drill Bit 3/32
Two Cotter Pins
10' Wire
Two Small Nails
Two Nico Press Cable Clamps
Buckle and Strap Replacements
Small Saw
Can be used for Klepper brand boats
* These flammable liquids in the kit cannot be shipped internationally. Long Haul will provide the kit sized containers and substitute items of equal value in exchange.
---